Last week I came across a Reddit post about James Brooke, the first White Rajah of Sarawak. There were a couple of follow-up comments and I thought I'd point people towards a blog post about him and I realised I haven't posted one, which is just mad. He is the hero of my first book, The White Rajah, after all, but although I've often mentioned him in blog posts, I've never devoted a whole post to writing about his life. Time to put that right.
James Brooke was born in Benares, India in 1803. His father was the chief of the East India Company's provincial court. Until he was 12 he lived with his parents in India, a pampered child in a country where an Englishman could live like a Lord. When he was sent to school in England, it was a rude surprise. He ended up in boarding school at Norwich but ran away after two or three years and moved in with a friend of his family, who was living in Bath.
Eventually his father retired from India and he, too, returned to Bath.
Brooke, though, was not a young man who was going to be happy living in Bath with his father. As soon as he was sixteen he was off back to the Far East at the beginning of a search for adventure that was to go on for decades. With his family's connections in India it seemed natural to him to join the East India Company's army. He was posted to the 6th Native Infantry where, with the genius for hammering square pegs firmly into round holes that marks the Army to this day, he was made a Sub-Assistant, Commissary-General. That's essentially a logistician – an administrative post for which Brooke's personality was almost entirely unsuited. He really wanted to be a cavalry officer.
Fortunately for him by 1825 the East India Company was at war with Burma and Brooke heard the general in command complaining that they had no light cavalry to act as scouts. Lieutenant Brooke immediately offered to raise a troop and he was allowed to call for volunteers from among the infantry. He formed them into a reasonably efficient irregular cavalry which scouted ahead of the main column. It was very much the sort of military role that Brooke would have relished, leading from the front with all the excitement of warfare. Unfortunately, war can never be without its casualties and early in 1825 he was wounded and invalided home.
His recovery was slow and when he finally started back to India his life continued to read like an adventure story because his ship was wrecked off the Isle of Wight and, though he survived, his health was again affected. He had to apply for more leave and then bad weather meant a slow journey back to Madras on the East Indiaman, Castle Huntly.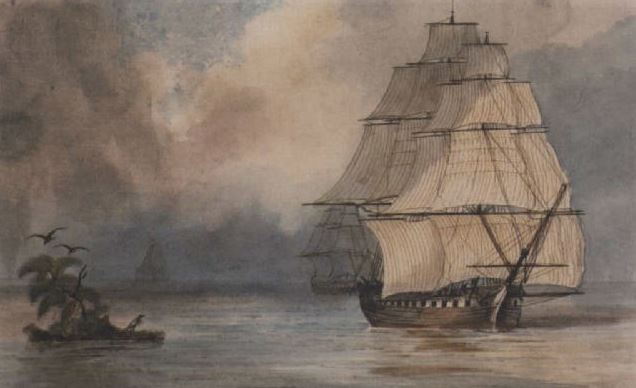 By now, he had been away from India for five years, the longest leave that his contract allowed him to take. Unable to rejoin his regiment in time, he resigned from the Company's service, deciding instead to stay on with the Castle Huntly and explore the waters of the Eastern Archipelago calling at the British possessions of Penang, Malacca and Singapore before sailing on to Canton. The voyage was essentially a holiday and he spent most of his time simply having fun and getting into scrapes with the local Chinese. His experiences there, though, were to change the direction of his life.
By the time he got back to England he had decided that what he wanted to do was to buy a ship and sail in search of adventure in the Far East. Eventually he managed to persuade his father to put up money and let him buy the Findlay "a rakish slaver-brig, 290 tons burden". In May 1834, just under three years from his return to England, he set off to sail to the East and a new life as a merchant-adventurer.
It's at this point that we first meet Brooke in The White Rajah. Obviously you could write a whole book just on his life up to the Findlay voyage, but for me that was just background. It doesn't feature in the novel at all. For the really exciting stuff, you'll have to wait till next week.
The White Rajah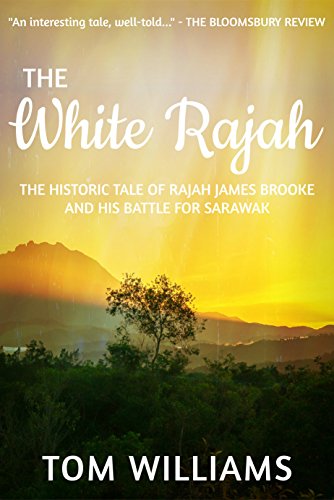 Of course, if you want to get ahead of the story, you can download The White Rajah for Kindle for a frankly embarrassingly low 99p. (A paperback is also available but delivery is likely to be slow at the moment.)