Every year I say that I am cutting back on book reviews and in 2021 I have managed to make a start in that direction. There were only 18 book reviews on my block last year (including one that just snuck into the beginning of 2022). A lot of people reported that, contrary to expectations, they read less during lockdown than they would usually and I think I have been no exception to this. Still, 16 book reviews is more than one a month, so it may be helpful to do my annual summary that provides convenient links for anyone who might be interested in reading my take on any of the year's choices. (Click on titles to go to my original review.)
Historical
In 2021 only nine of my reviews were historical novels. These ranged from two very different approaches to the 17th century right up to World War II, which is particularly popular with historical fiction writers at present. Here they are in roughly chronological order.
Elizabethan spies. Mary Queen of Scots. Gripping stuff in stunningly well-written novel by someone who certainly knew their Elizabethan history. Brilliant characters, (largely) convincing plot, loads of lovely period detail. A model of how to do it.
A story of witchcraft and strange goings on in 17th century England.
The second story here set against a Civil War background. Two strong female characters, a suitably chilling villain and a story that positively romps along, helped by fluid prose that's a pleasure to read. A lot of fun.
Definitely one of the best books I read last year, Deborah Swift's story of a surprisingly sympathetic mass-poisoner in 17th century Naples blends fact and fiction in the seamless way she has made her own.
Humphrey's hero is fighting in the American War of Independence, but the book is very like the Burke series in its mix of espionage and carefully observed accounts of some key battles. If you like James Burke, you'll love this.
Now we are fully into James Burke territory with a plot to kill Napoleon in 1801. I enjoyed seeing how another author covered territory not that different to the latest Burke adventure. (Burke and the Pimpernel Affair is set in 1809.) It's an exciting story with a convincing historical background.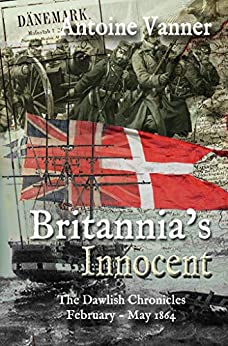 It's 1864 and the hero of Vanner's Dawlish Chronicles is a young midshipman when he finds himself caught up in a plot to provide unofficial military aid to the Danes who are at war with the Austrians and Prussians over the Schleswig-Holstein question. As ever, Vanner is fascinated by the technological advances of his chosen period and the effect that these are having on the conduct of war. He is unsparing with the details of the early days of modern warfare. It's not an easy read, though Vanner writes well. It's the subject matter, not the prose, that wears you down. There is an awful lot in this book and most of it depressing. It's true, though, that war really is hell and books that are honest about this are a valuable antidote to a lot of the romanticised versions of war that you read in so many novels. It's a must-read for fans of naval history in the early years of steam.
Up to the First World War now and another of Alan Bardos' excellently researched books. This is the sequel to The Assassins. We're back with his anti-hero, Johnny Swift, with a brilliant summary of why the Allies were attempting a landing at Gallipoli and why it was doomed.
Moving on to World War II we have Deborah Swift's book about the 'Shetland Bus' ferrying resistance fighters between German-occupied Norway and the Shetland Islands. It's a little-known part of the war and will appeal to people who enjoy war stories.
How come I've a tenth title here when I said that only nine of my reviews were historical novels? The answer is that Lucky Jack is not a novel but "a sort of a memoir". It's an account of the life of a West London cobbler, put together from family records and Jack's own writings by his grand-daughter, Sue Bavey. Jack was born in 1894 and died in 2000 and he fives an 'Everyman' perspective on the whole of the 20th century. This is a wonderful book, which I recommend wholeheartedly.
Other fiction
A readable but forgettable thriller.
I don't often write negative reviews: life's too short. But I've enjoyed books by Ragnar Jonasson before and the publisher sent me a copy of this to review, so I felt I had to. Long story short: don't read it. (Definitely not the book and probably not the review either.)
Hilarious. Read it.
Jane Austen for the 21st century. Highlights include the middle class house party from hell (probably my favourite bit of the book and a reminder that thanks to covid we've all been excused some ghastly evenings) and the detailed descriptions of décor. Each of the main characters lives in a very different kind of house. All of them are dripping with money but all are in a diverse style. Just reading about their furnishings immediately places the characters. "Oh yes," says my beloved of one of them, "That's the house I'd live in if I had the money." She's right of course: it belongs to the most sympathetic character in the book.
A seriously good read.
Traditional cosy crime story, enlivened by having one character who is a ghost (but who doesn't help solve the murder, thank goodness). Undemanding well-written fun.
Crime thriller. My review describes it as "a bloody good read" and it is.
A friend who had read my urban fantasy, Something Wicked, said that it reminded him of Rivers of London so I had a look at it on Amazon and it's rather wonderful. And, yes, there are definite similarities to Something Wicked. Perhaps Aaronovitch's familiarity with the supernatural (the story does suggest quite a lot of research) means that he read Something Wicked and then moved back through time to write Rivers of London.
Like Something Wicked the story starts with the discovery of a body that has been the victim of an unusual murder. In this case it has been decapitated. There follows a lot of detail of police procedure but the appearance, fairly early on, of a ghost as a witness to the crime suggests that things are going to get very weird very quickly. While my detective finds himself working alongside Chief Inspector Pole, a vampire from the mysterious Section S, our hero here, Chief Inspector Nightingale, is a wizard working for Economic and Specialist Crime. Pole and Nightingale share a preference for working alone from their homes and both seem to take an unhealthy interest in mortuaries, but while Pole's brief sticks to the vampiric, Nightingale covers all the ghosties and ghoulies London has to offer. It makes for a complex plot but it makes sense as you read along. It's helped by a wonderful sense of place, with lots of details of London geography that pin it firmly to reality. Above all it is funny – often laugh-out-loud funny. It's a wonderful mix of horror and humour and glorious British eccentricity at its best. I do recommend it.
Larry Beinhart's satirical update on the traditional zombie story is hilarious, terrifying and politically sharp at the same time. Recommended.
My book of the year
This is inevitably a personal choice and you don't have to agree with it but if you have read the summaries of the reviews above you will know that it had to be Deborah Swift's astonishing novel of 17th century mass murderer, Giulia Tofana: The Poison Keeper. You can buy it at https://www.amazon.co.uk/Poison-Keeper-enthralling-historical-Renaissance-ebook/dp/B0928WPHMH
Please follow and like us: