James Burke was a real person and my first book about him, Burke in the Land of Silver, sticks reasonably closely to as much as we know about the true story of his life.
He was born into an Irish Catholic family in 1771. In 1792 he fought for the French in the Regiment of Dillon, a regiment that was largely made up of Irishmen. He served in the West Indies where he became fluent in Spanish. At the time England and France were not at war and there was nothing to stop British citizens from fighting under the French flag. However this changed in 1793 and Burke found himself fighting against the British. In September of that year the Regiment of Dillon surrendered to British forces. They were given the option of serving under the British flag and they chose this rather than become prisoners of war.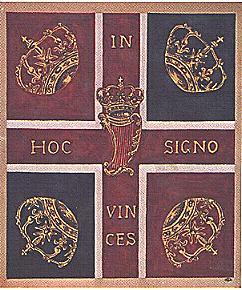 Flag of the Regiment of Dillon
Although he nominally remain in his old regiment, between 1794 and 1804 Burke was seconded on intelligence work, reporting directly to the British commander-in-chief, the Duke of York.
In 1804 Burke travelled to South America. It was at this point that he requested to be transferred officially to an English regiment. From then on he moved from regiment to regiment at almost dizzying speed. By 1806 he was serving as a captain in the prestigious 2nd Infantry (the Queen's Royal Regiment). He held a number of brevet ranks (temporary promotions awarded while on particular assignments carrying additional responsibility) and was appointed a major in the Queens Royal Regiment in 1807. He finished his military career as a lieutenant colonel on special services from 1825 to 1826. The rapid changes in rank and regiment are an indication of the fact that he was often detached on special assignments ie he was a spy.
In Burke in the Land of Silver I suggest that he had an enthusiastic romantic life. During his adventures in South America and Spain (essentially as recorded in the book) it seems likely that he seduced the wife of his Buenos Aires contact, who went on to become the Viceroy's mistress. His trip to Spain probably resulted in a liaison with the Queen (not as improbable as it sounds as she was notoriously promiscuous). On his return to South America a stay in Brazil seems to have led to an adventure with the Princess Royal, a woman who had inherited her mother's carnal appetites.
Despite his adventures with women, Burke seems to have been very good at his job and almost certainly played in a key role in the successful capture of Buenos Aires by British forces in 1806.
Although Burke in the Land of Silver is based on Burke's actual adventures, later books in the series are not. In each case the historical background is accurate and in some cases British agents were probably involved. The next (so far unpublished) book, which is set in the Peninsular War, sees Burke displaying many of the characteristics of another real spy, Sir John Waters, but I've kept Burke's name and what I can imagine of his character.
Intelligence work was a vital part of the British war effort, as it has been in most wars since. Some of the details of Burke's work are fact-based, others are entirely fictional, but we can be confident that James Florence Burke (yes really) was busy as a Confidential Agent of His Majesty for most of the time from 1794 to 1826.
ACKNOWLEDGEMENTS
The only detailed account of Burke's life I have been able to find in English is A soldier under two flags. Lieutenant-Colonel James Florence Burke : officer, adventurer and spy by Peter Pyne, published in Etudes Irlandaises 1998 pp. 121-138.
Please follow and like us: