I have a guest post this week from Jemahl Evans, whose Civil War books are great fun. (There's a review of The Last Roundhead HERE.) Jemahl mixes fact and fiction to great effect and here he writes about d'Artagnan (yes, that d'Artagnan) who really existed before first Dumas and now Evans stole his life for their stories
—————————————————————————————————-
Alexandre Dumas' musketeer trilogy is a classic of literature. The books have been made into multiple movie and television incarnations since 1903 when The Three Musketeers first hit the silver screen to the BBC's 2014-16 version: different languages, comic versions, steampunk, silent and talkie, monochrome and colour, even an animated version with dogs taking the characters roles. Anyone who has read my Blandford Candy series will know Dumas musketeers are a massive influence on my writing. My penchant for metafiction means the series already features the real Milady  D'Winter (Lucy Hay, Countess of Carlisle, who really did steal the Queen of France's diamond necklace) as an antagonist, and, with a certain inevitability, my take on the real D'Artagnan and two of his compatriots is in the upcoming third book (Of Blood Exhausted).
The historical D'Artagnan was born near Lupiac, in what was then Gascony, in 1611. His family were petty aristocrats. His grandfather Armand de Batz had been a merchant who had been made a noble of the robe and purchased the family chateau Castlemore ( the chateau still survives today but is in private hands so getting in to see it is pretty much impossible). D'Artangan's father Bertrand married into the powerful and influential de Montesquiou family who gave young Charles the d'Artagnan title – de Batz de Castlemore, Comte d'Artagnan. It was these family connections that would give the boy his leg up in Bourbon France.
In 1632, Charles' uncle supported his entry into the army with the help of his old friend Jean-Armand du Peyrer, Comte de Troisville and Captain-Lieutenant of the Black Musketeers (Monsieur Treville in Dumas books). This was far too late for d'Artagnan to have been involved in the theft of Anne of Austria's jewels or the Duke of Buckingham's machinations at La Rochelle as Dumas portrayed – Buckingham was assassinated and La Rochelle fell in 1628. Nevertheless, d'Artagnan quickly proved himself an able soldier. By the mid-1630s he had joined the prestigious musketeers and during the early 1640s was involved in the Franco-Spanish theatre of the Thirty Years War. His regiment campaigned in the Spanish Netherlands and Southern France, taking part in sieges at Arras, Colliere and Baupame. The heavily fictionalised account of his life by Gatien de Courtilz de Sandras (Les mémoires de M. d'Artagnan) places him and his companions in England during the Civil War at the first Battle of Newbury (1643) fighting for King Charles I, but there is no firm evidence for this. The King's musketeers were disbanded in 1646, but it is clear that by then d'Artagnan had come to the attention of Cardinal Mazarin and was being employed as a spy. The deaths of Louis XIII and the infamous Cardinal Richelieu in early 1643 had created a crisis in the French government. Louis XIV was only a child and opposition to Royal government was extreme. Cardinal Mazarin became de-facto ruler of France (and allegedly the lover of widowed Queen Anne). Desperate to avoid a civil war or revolution in France, Mazarin used d'Artagnan and his friends as agents throughout the 1640s and 50s (yes, there really was a Porthos, Aramis and Athos too, although Athos was killed in a duel in 1643).
By 1648, the situation in France was almost as dire as England. A series of revolts against royal power known as The Fronde broke out, and d'Artagnan was constantly on the move for Mazarin even when the cardinal was officially in exile, although just exactly what he was doing is never really clear. By 1652, a semblance of order had been restored and Louis XIV had reached his majority. D'Artagnan was promoted to Lieutenant of the Gardes Francais in 1652 and made captain of the regiment in 1655. Throughout the 1650s he led his troops against the Spanish as the Franco-Spanish War dragged on and on. When Louis XIV reformed the King's Musketeers in 1657, d'Artagnan was made a second lieutenant; a veritable promotion because of the prestige of the unit.
Mazarin's death in 1661 again created a power vacuum in French government. One of the contenders for chief minister was Nicolas Fouquet, a finance minister who had amassed a vast fortune from his position whilst the French state was virtually bankrupt. Fouquet's dreams of power were dashed by Louis XIV asserting his personal control, and appointing Jean-Baptiste Colbert as Finance minister to reorganise taxation. Fouquet was manoeuvred into selling his rank in expectation of further promotion and thus temporarily losing his privileges and official protections. Louis arranged for d'Artagnan to arrest Fouquet after a session of the royal council. Fouquet, by all accounts, left the meeting in good spirits after being flattered by the 22 year old Sun King only to find the musketeer waiting.
Again, Dumas used the background of Fouquet's arrest, the Fronde, and the mystery of the Man in the Iron Mask (yes there really was a man in a mask too) to create his sequels to The Three Musketeers. Dumas makes the mysterious man a brother of King Louis and Fouquet a hero of the tale. In reality, Fouquet was tried, convicted, and imprisoned for the rest of his life. The identity of the Man in the Iron Mask is unclear, but some evidence points to an individual named Eustace Dauger rather than a royal brother. D'Artagnan meanwhile was well rewarded for his royal service. He was made Captain-Lieutenant of the King's Musketeers in 1667, taking the rank of his first patron Troisville, and subsequently governor of Lisle. It was not a happy appointment. The old musketeer was an unpopular administrator, and petitioned to return to the field rather than stay in the desk job. He got his wish and was recalled to the colours when the Franco-Dutch War broke out in 1672, but was killed at the siege of Maastricht when a musket ball hit him in the throat.
Just like Dumas and de Sandras, I have gone back to the real history to create my portrayal of Mazarin's spy whilst also paying homage to their earlier creations. And, I have to confess, used Richard Lester's version of d'Artagnan and Roy Kinnear's Planchet.
Excerpt
Here's a sneak peak of d'Artagnan in his third book Of Blood Exhausted.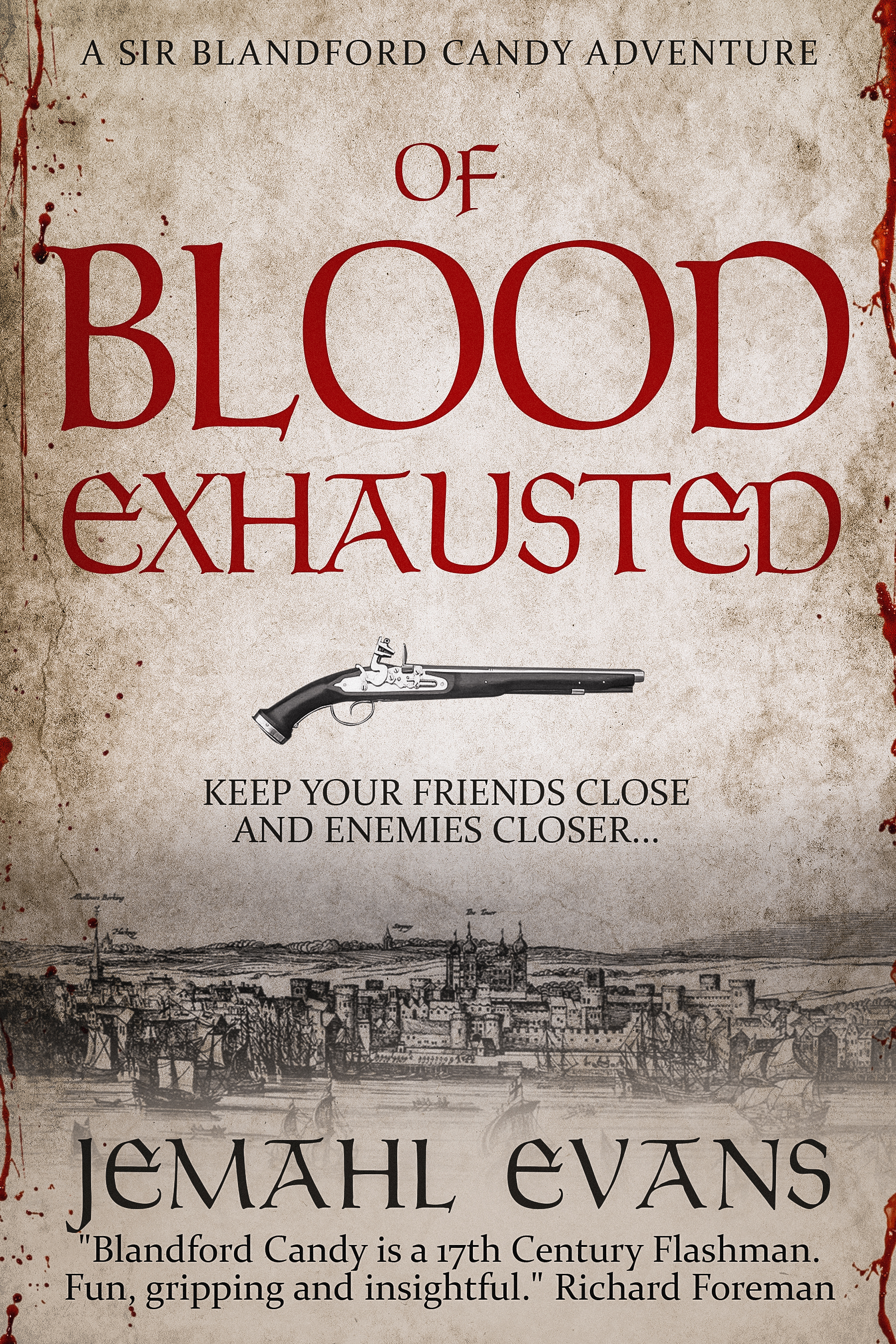 Monsieur D'Artagnan and his servant Planchet seemed to do little more than drink, revel and feast at the Tabard. They were waiting on orders from Mazarin, so they said. Personally, I found it irritating, but the news of a sword exhibition at least piqued the Frenchman's interest. I met with him in the backroom overlooking the river, and took Figgis along to keep him out of my sister's way. The table in front of D'Artagnan was piled high with different dishes of food and a pitcher of wine, and he lounged in a chair with one leg over the arm as Planchet poured the sack. St John had agreed to pay the Frenchmen's tavern bill, and they were making good use of the account.
'An exhibition of swordplay?' said D'Artagnan. 'Finally something to break the boredom of this godless city.'
I started to laugh; 'godless city' was a phrase William Everard used often enough, but I wagered the radical puritan poacher meant it for completely different reasons to a papist French spy.
'Pourquoi riez-vous de moi?' said the Comte. (Why are you laughing at me?)
'London is greatest city in the world,' says I, proud of my adopted home.
'Mon Dieu, Candy! For a city to be great, Monsieur, the food and wine needs to be glorious, the people engaging, the conversation stimulating and the women enchanting. London has none of this. Come to France; you will find good food, better wine than this piss, and prettier girls in every village.'
'Pas Gascogne, maître,' said Planchet. 'Les Gascons sentent mauvais.' (Not Gascony, master. Gascons smell bad)
'Silence, Planchet,' said D'Artagnan. 'Planchet is from Paris. Even the poorest Parisian thinks himself better than a Gascon comte, even when that comte is his master.'
'Surtout quand le comte est son maître.' (Especially when the comte is his master)
Planchet grinned at Figgis. The blackguard clearly understood the English tongue. He was more than the comte's mere servant, I was certain. My rustic valet opened his chops as if to say something.
'Ye know…,'Figgis began.
 'I have similar problems with witless and impudent servants,' I said, glaring at Figgis to be silent. 'And what be wrong with the wine and food?  You seem to have enough of it.'
'Ah the wine: it is Spanish, sweet, sickly and thick, at best. The good wine is never sent here. Instead it is barrels of poor quality vinegar, that you quaff and quaff, caring nothing for taste or body. You cannot even pour it properly, always right to the brim to get as much as possible in your cup.'
'Ils doivent être très assoiffés, maître.' (They must be very thirsty, master.)
'And the vegetables, you murder the vegetables. There is a reason God put the English on an island: it is to stop you poisoning the rest of us.'
'What be the matter with the vegetables?' I liked pottage.
'There are farms nearby. I picked a leek, fresh and crisp and full of taste. You English turn it into this.' He pointed to the dish of pottage on the table. 'You boil the flavour out of the food. I would rather eat rat meat; C'est dégoutant.' (It's disgusting)
'You ate a raw leek? That be disgusting.'
'And what is the jelly? Aspic? You put a boiled egg in aspic then choke it in spice: ginger, nutmeg, and cardamom; tres dégoûtant!' (very disgusting).  And then you encase it in a pastry so tough it could be made of stone. Pastry should crumble and melt like butter on the tongue.' He sat straight in his chair and pointed to some salted fish cooked in cider and honey; another dish I was partial to. 'You live by a river yet there is no fresh fish anywhere in the city, it seems. Why is that? Salted fish, spiced fish, smoked fish, dried fish, and pickled fish, but no fresh fish at all?'
'Well, you would not wish to eat ought that came out the Thames near London,' I told him. 'The poisson is liable to be poison. You are supposed to be seeking out an Imperial assassin, not on a culinary tour of England.'
D'Artagnan, waved his hand dismissively at me. 'Believe me, Monsieur Candy, nobody would come to England on a culinary tour. The ravaillac runs out of the most precious commodity,' he said. 'Time for him is pressing. Perhaps your theatre event will be the place he next chooses to strike.'
'Why think you?' I did not want anything to spoil our grand design.
'If the Prince can be killed before the spring it will sow confusion and discord in the alliance, and here in England. By May, France will be invading the Hapsburg Empire, and your new Parliament army will face King Charles. Ferdinand is losing the war; thousands were lost in a battle in Brandenburg last November.' He picked up a chicken leg, bit into it and spat it out again. 'Quelle surprise, even the bird is dry and overdone. The only thing you English can cook is roast beef.'
Planchet started to chuckle.
'Stop whining about the food,' I snapped. 'Dip it in the bread sauce if 'tis too dry.'
'Je ne recommanderais pas la sauce, maître,' said Planchet. (I would not recommend the sauce, master)
Please follow and like us: