Eleanor of Castile (1241-1290) lived during a period of great castle building particularly in Wales. However, what is not so widely known is that a reason she may have been considered a She-Wolf Queen is because her contemporaries often thought her greedy and accumulative. The truth is, Eleanor suffered greatly during the Barons' War which opens The Damask Rose. Simon de Montfort, leader of the anti-royalist baronial faction, won the Battle of Lewes and took the King, Henry III, his son Edward and Eleanor prisoner amongst other royalist supporters. They were all held at separate locations and Earl Simon famously ruled England through the King for more than a year. Eleanor was impoverished and incarcerated at Westminster or in the Tower for the period prior to The Battle of Evesham which the Royalist faction won following Edward's escape from captivity. Read The Damask Rose in which these events are dramatized to find out what happens next.
Once the monarchy was restored, encouraged by Edward, Eleanor began to accumulate property in her own name. Sara Cockerill, Historian, has written a superb non-fiction about Eleanor of Castile which has informed many of the events of The Damask Rose and which inspired me to write Eleanor's story in fiction. Sara describes Eleanor's property acquisitions which were accelerated once Eleanor was crowned Queen in 1274. She writes: 'Eleanor, more or less uniquely among English queens, managed to combine her day job as queen carrying on another full time professional job as a business woman dealing in property.'
Eleanor worked incredibly hard with a well-selected team under her which she managed. She would not ever be flouted. This indicates her determination and indeed sometimes ruthlessness. She would never be poor again, so poor that during her nightmare year she had to borrow funds from her tailor to purchase firewood and pay her staff. Eleanor was extremely intelligent, competent and a passionately hands-on business woman. She travelled around the countryside visiting her castles and manors choosing them with care.
On occasion she borrowed money from friends to finance castle building works and without doubt she needed large sums of money to finance her great household. This would cost her around eight thousand pounds a year. Her properties helped finance her lack of income. By 1290, the year of her death, her estates provided her with around two to three thousand pounds annually. A ditty from the time went like this:
The King would like to get our gold
The Queen our manors for to hold.
Another epitaph written by the Dunstable annalist after Eleanor's death in November 1290 said 'A Spaniard by birth, who obtained many fine manors.' Her property acquisition was well-known during her lifetime. Sara Cockerill points out that Eleanor was associated directly with her estates in surviving correspondence. She made decisions and dealt with administrative detail, enclosures, land tract issues, confirmation of conveyances and even allocating wine from to vineyards for shipment. Letters show how staff were reporting to her. She was personally involved in her business empire and paid attention to detail.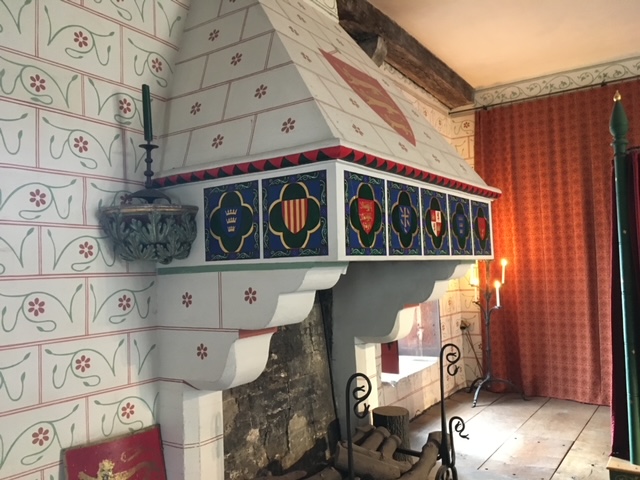 During her time as Queen, her husband, Edward I ordered the royal apartments in the Tower of London redecorated. Today one can view the thirteenth century royal apartments in the Tower including the replica of Edward's bedroom. The chamber appears to have been decorated in Eleanor's favourite colours, red and green with a sprinkle of gold. They give a sense of what Eleanor's favourite manors would have looked like inside. Close to where I live, is the village of Brill, to which Eleanor had title. The palace at Brill, which she sometimes occupied, was situated in the middle of Borstall Woods, part of Bernwood, a forest covering much of this part of Oxfordshire. Now the woods have dramatically shrunk and the palace has vanished. Eleanor loved to hunt and I am convinced I sense her presence when I walk through our local Piddington wood, a remnant of the royal ancient hunting forest owned by Queen Eleanor.
Carol McGrath
Carol McGrath is the author of the acclaimed She-Wolves Trilogy, which began with the hugely successful The Silken Rose and continues with the brand new The Damask Rose. She was born in Northern Ireland, and fell in love with historical fiction at a young age, reading children's classics and loving historical novels especially Henry Treece, The Children's Crusade, and, as a teenager, Anya Seton's Katherine and everything by Jean Plaidy. Visiting the Tower of London and Hampton Court Palace aged eleven was thrilling for her. Exploring Irish castles such as Carrickfergus introduced her to wonderful stories. At only nine years old an archaeological dig in Donegal was inspirational. Carol came away with a few ancient mammal teeth. While completing a degree in history, she became fascinated by the strong women who were silenced in records, and was inspired to start exploring their lives. Her first novel, The Handfasted Wife, was shortlisted for the Romantic Novelists' Association Awards, and Mistress Cromwell was widely praised as a timely feminist retelling of Tudor court life. Her novels are known for their intricacy, depth of research and powerful stories.
For more news, exclusive content and competitions, sign up to Carol's newsletter at: www.carolcmcgrath.co.uk. Follow her on Facebook: /CarolMcGrathAuthor1 and on Twitter: @CarolMcGrath
The Damask Rose
1266. Eleanor of Castile, adored wife of the Crown Prince of England, is still only a princess when she is held hostage in the brutal Baron's Rebellion, and her baby daughter dies. Scarred by privation, a bitter Eleanor swears revenge on those who would harm her family – and vows never to let herself be vulnerable again.

As she rises to become Queen, Eleanor keeps Olwen – a trusted herbalist, who tried to save her daughter – by her side But it is dangerous to be friendless in a royal household, and as the court sets out on crusade, Olwen and Eleanor discover that the true battle for Europe may not be a matter of swords and lances, but one fanned by whispers and spies . . .
Buy it here: tinyurl.com/dk2att32
Please follow and like us: