I was dancing a week or so ago (regular readers will know I spend a lot of time dancing tango) when somebody asked me about the books I write. It made me realise how bad I am at getting the word out about them, even to people who read my blog. So this Tuesday, instead of talking about books by other people, I'm going to remind you about books by me.
I've written two series, both historical. Here they are:
His Majesty's Confidential Agent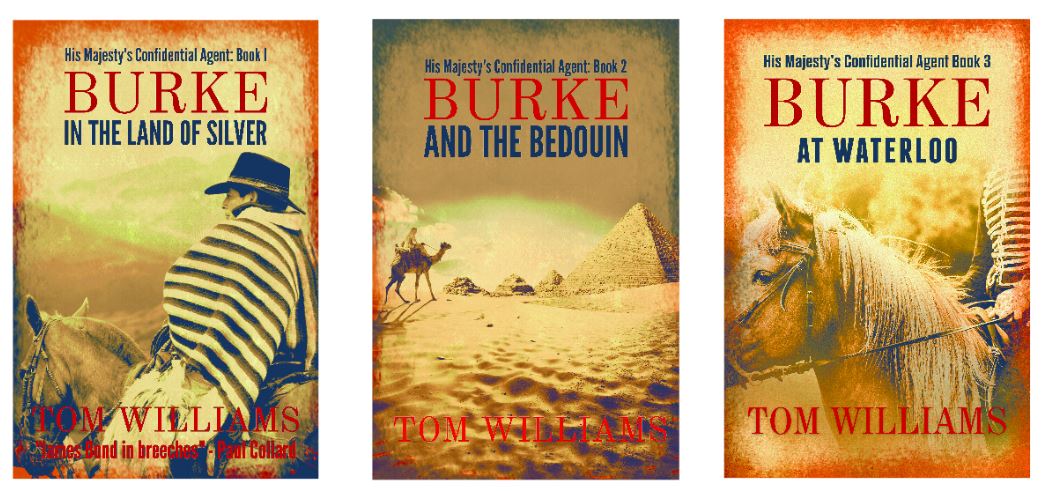 These stories (three so far, two more to come out next year) are about a British spy during the wars with France. The first one, Burke in the Land of Silver, is very closely based on the true story of James Burke who facilitated the British invasion of Buenos Aires in 1806. The other two are written quite tightly around historical events, but the real James Burke wasn't really there.
Burke and the Bedouin is set during Napoleon's invasion of Europe and ends with the destruction of the French fleet at the Battle of the Nile. Burke rescues a beautiful woman from slavery and, in a quiet moment, sets up Napoleon's fleet for annihilation by Nelson. (It's quite likely that a British agent was responsible for the French fleet  staying where Nelson could destroy it, but we'll never know for sure.)
Burke at Waterloo starts in Paris with an attempt on the life of the Duke of Wellington, which really happened. Burke is trying to track down the Napoleonic mastermind behind the plan and his adventures end up in Brussels as Napoleon breaks free from Elba. The climax is on the battlefield, which explains why you been reading so much about the battle of Waterloo on my blog lately. The Burke stories are not military history like Cornwall's Sharpe series, although they all do feature the odd battle. Somebody called it "James Bond in breeches" which is pretty much what I was aiming for. They're basically light-hearted fun with a solid historical background.
The Williamson Papers
This is a trilogy following the adventures of one man as he travels from England to Borneo and then India before returning to London. It's set in the mid-19th century and is a much more serious read than the Burke books, partly because they are all written in the first person and John Williamson was a very serious man. He was never going to be as popular as James Burke, so there are only three of them, while Burke looks set to run forever – or at least until the last French spy has met a suitably bloody death.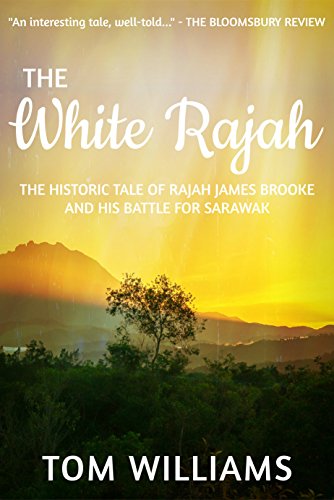 In the first book, The White Rajah, John Williamson finds himself serving James Brooke, the first white Rajah of Borneo. Brooke was a real person and his story, though the quintessential stuff of boys' adventure yarns, is pretty much all true.
The second book is Cawnpore. All my books are standalone titles, so you can start here if you want. The story is based around an incident in the Indian Mutiny and although it has battle scenes and heroic escapes, it's not really an adventure story. John Williamson isn't a soldier and although he gets caught up in the fighting all he really wants to do is to live in peace. Sadly, as India erupts into violence around him, that's not going to happen.
Although Cawnpore is my personal favourite, some people prefer Back Home, which brings the cycle back to England. It's on a much smaller scale than the others, with most of the action set in London's Seven Dials, but it features the same themes. Williamson has travelled the world, seeing at first hand how the English treat the natives of the countries they rule and now he discovers the same divide between the strong and the weak even in London. Back Home has had exceptional reviews, and is worth a look even if you haven't read the others in the series.
All these books are available on Kindle or in paperback. Note that the covers are different in North America.
There are details about all the books and buy links here at http://tomwilliamsauthor.co.uk/my-books/
Please follow and like us: