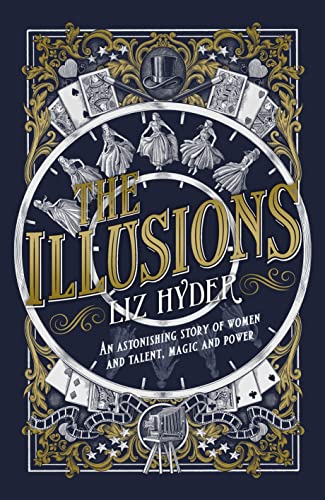 When I read that The Illusions is a historical novel (it's set at the end of the 19th century) that combines a story about stage magicians with supernatural elements about people playing with actual magic, I couldn't resist it. That's the central idea in my own novella Dark Magic although that's one of my contemporary books. I wanted to know how another author had tackled the same issues. In fact, Hyder's story is more similar to mine than I had expected. It pits some regular stage magicians against an evil dark magician, in the same way that mine pits a company of stage magicians against a company dabbling with Black Magic. There's an additional twist in The Illusions, as some of the stage magicians have real magical powers as well, although they do not reveal these to their friends.
All that said, The Illusions has very little in common with Dark Magic. For a start, Dark Magic is a novella while The Illusions is very long. I had an e-book, so I can't say how many pages there were but it seemed to take a while to read. It also has quite a large cast of characters. As the story goes on you learn which of these characters are important and which are secondary and the relationships between the important characters become clear. At the start of the book, though, the characters are introduced one by one and it is not at all obvious what they have to do with each other.
The first person we meet is Arter Evans but he dies quite early on. The character who matters is his assistant, Cecily Marsden, always known as Cec. Cec appears soon after Arter, but the opening paragraphs are entirely from Arter's viewpoint and this makes it difficult to immediately relate to Cec – a difficulty increased by introducing her in terms of what she has learned of magic, rather than how she feels about it.
No matter. A few pages later, Arter is dead and Cec flees to "the one person in all of Bristol that might be able to help". So we meet Skarratt. There's a hint that Cec does not like Skarratt. She's right not to – he's a thoroughly unpleasant piece of work – but we do not know why she dislikes him so much or, indeed, why he is the one person who might be able to help.
No matter (again), for we leave Cec and are introduced to Eadie. She is picking at a loose thread on her dress. She is, we are told, nervous.
I am not one to insist that it is always a crime to 'tell' rather than to show, but it would be nice to occasionally see things internalised. If we were in Eadie's head we would see that she was nervous. We would not have to be told that she picked up a loose thread "nervously", nor that she is "reassuring herself" that she does not need to be frightened.
Perhaps there simply isn't time to get into Eadie's head, for we are about meet another character, George Perris. They are both there for a séance. Eadie intends to expose such seances for the frauds they are. (I never quite worked out how but I may just not have been paying attention.) Perris's approach is more direct. He breaks up the séance, causing real distress to the sitters. Eadie is angered by this and berates Perris but, already, she can't miss that he is "one of the most handsome men she's ever seen".
Somewhere in the roomful of characters at the séance there is another significant person in the story, but don't try to work it out because now we are in Paris at a performance by Valentin, who is seeing visions of a woman called Olivia who…
You see why I was frustrated at this point.
Once the characters have come together and we know the relationships between them, everything makes a great deal more sense. The plot is quite complicated but revolves around a feud between Skarratt on the one hand and Valentin and George on the other. Valentin and George are putting on a magic show intended to cement George's reputation as the greatest magician in England, while Skarratt is set to wreck it largely out of spite and jealousy. Fortunately for George both Valentin and Cec possess real magical powers with which they are able to foil at least some of Skarratt's evil plans.
The story draws in the early days of moving pictures (Eadie is developing new techniques, though we learn little of the technology), and a complicated series of relationships as the characters (except the loathsome Skarratt, of course) sort themselves into romantic couples.
The descriptions of tricks from the Golden Age of magic are fascinating, though I fear the author is often as misdirected as the audience. The thing about magicians is that they often seem to do things that appear impossible. This doesn't mean that they actually do impossible things, but some of the descriptions of the tricks here clearly are impossible. This means that the distinction between the tricks that are being done by expert magicians are difficult to distinguish from those which are being done by expert magicians who are also possessed of genuine magical powers. That, I think, weakens a central element of the idea behind the book. By the end (no spoilers) stuff is happening that is clearly absolutely impossible. In fact, so impossible that you would think even the audience would notice. But perhaps they, like us, are lulled into a false sense that it's all just a magic show by the number of impossible tricks they have witnessed from regular magicians. It's still odd that Valentin is prepared to do some of these tricks given that he is supposed not to be letting his friends know about his magic powers. Never mind: it's a dramatic ending to the book.
The failure to show us how the characters feel, rather than just to tell us what they are feeling, meant that they never really came alive for me. As a result, I found my interest slipping. On the other hand, I was drawn back in by the plot, which zips along. I had the impression that it was written more for younger readers who may be less worried by the rather two dimensional characters and more interested in the plotting, which is fair enough. If that's you (or a young friend) you may well enjoy this book.
Dark Magic
If you like the idea of seeing real magic and stage magic mixed together, but in a more contemporary context, you might consider reading Dark Magic. All the stage magic in the book is true to life (I've spent far too long hanging round with magicians) and the 'real' magic is gloriously over-the-top. Reading The Illusions, I did feel that there was an absence of real jeopardy. With all this magic and evil flying about, nobody seems to get really hurt. (There's one broken limb but it heals rapidly and with remarkably little pain.) For me, a book with 'real' magic and a villain like Skarratt really wants to have some seriously unpleasant things happening. Be warned: Dark Magic does do horrible things to its equivalent of Skarratt. On the other hand, it is often laugh-out-loud funny (or so reviewers tell me). I'm not sure that The Illusions wouldn't benefit from more humour, come to think of it.
Anyway, if stage magic and dark forces are your thing, why not read them both?
Dark Magic is available on Kindle and in paperback. The Kindle edition costs just £1.99.