It's been an interesting and eventful week – and not just in the British Parliament.
Last weekend was the second Malvern Festival of Military History. I wasn't speaking this year, but there was some interesting stuff on so I decided to drag my long-suffering beloved to go to it anyway.
We combined the weekend with another trip to Wales. The countryside in October can be particularly magical with incredibly rich colours.
We were lucky with the weather when we arrived. (The sky really was that blue.) But by Friday morning it was getting seriously misty – though still beautiful.
Soon, though, the rain began to fall … and fall … and fall.
By Saturday morning, when we were to drive toMalvern, the Met Office was warning of extreme weather and roads were closed by floods. It was, to put it mildly, an interesting trip. We made it safely in the end (though it really was touch and go in some narrow lanes that were under several inches of water.)
It was definitely worth it. The Malvern Festival of Military History attracts some big names and there was a range of fascinating subjects from the propaganda war against Napoleon to Britain's war in Iraq. The opportunity to listen to Cedric Delves and Danny West chatting together about their experiences with the SAS in the Falklands was a bit special.
We stayed on in Malvern on the Monday to take the opportunity to walk again on the Malvern Hills. It had finally stopped raining, though this photo, showing a considerably swollen River Severn in the distance, gives you some idea of how bad the flooding had been.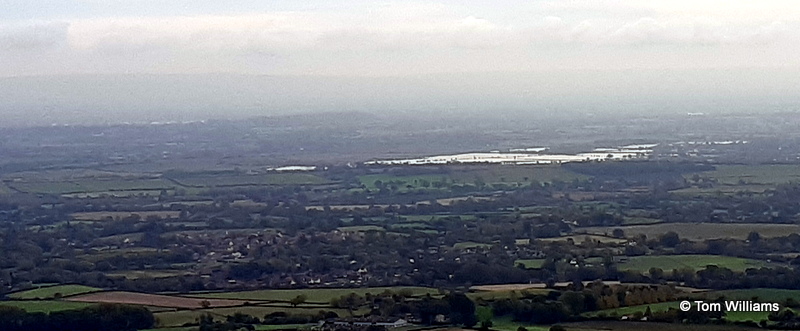 The Malvern Hills are a quite spectacular formation. If you haven't been and you ever get the chance, I do recommend them. Even on a dull day, like Monday, the views are impressive.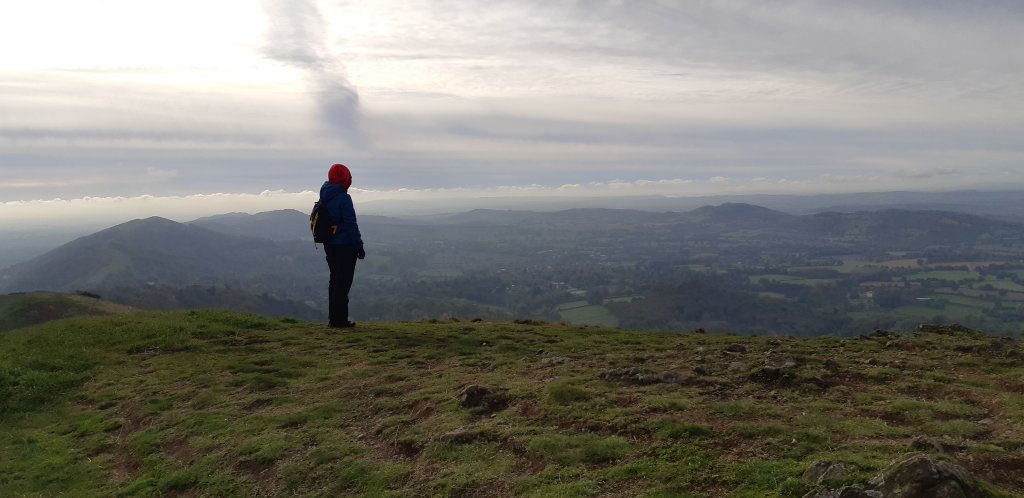 We had just time before we left to visit the priory. It's a very early Norman building where work started in 1085. Its antiquity is clearly reflected in the massive Norman pillars of the nave.
There's an unusual amount of mediaeval glass as well. I nearly said "stained glass" but medieval glass is generally painted rather than stained and has an entirely different character to the Victorian windows we are familiar with. The priory church (once attached to a priory that was a victim of Henry VIII's Reformation) is architecturally fascinating as well as very beautiful. In most places, I would expect it to be very crowded but in Malvern, on a chilly October Monday, we had the place to ourselves.
Back to London, detouring round roads that were still flooded and impassable to traffic, we were home on Monday night. The rest of the week was quiet except for the little matter of my book launch on Halloween. We didn't have a party or anything (I think there is a convention that novellas don't rate a party) but Thursday was still a bit special as far as I'm concerned. No Top Ten status, but lots of support and enough sales to make #68 in Amazon's 'Humorous Dark Comedy' listing. (On a side-note, does this mean Amazon has a 'Not-at-all-funny Dark Comedy' listing?)
Dark Magic is a bit of a difficult book to classify. It's about a troupe of magicians who discover that another conjuring troupe are using Black Magic in their act and set out to use their own skills to stop them. I have a rather dark sense of humour, so the results are occasionally funny (or so I've been told). It's not a laugh a minute on account of all the Black Magic and death, but, yes, it does belong in that listing.
Anyway it's out there on Kindle (mybook.to/DarkMagic if you want to buy it) with a print edition coming soon. So that's been my week. I've had fun. I hope your week was good too.
Please follow and like us: